SPOTLIGHT ON… STEPHEN BARNES
This month, we shine a light on Stephen Barnes, our Operations Manager. We find out how he came into the CV screening industry, what makes him tick, why he loves working in this business and a little bit about a legacy he left behind during his career working for the police…
How did you get into the CV screening industry?
After retiring from a career as a Detective for the Metropolitan Police lasting 28 years, I was looking for a new challenge in the private sector. I'd worked mainly in intelligence, so the screening industry presented an opportunity to use my investigative and management skills in a new way, whilst developing my knowledge of business practices.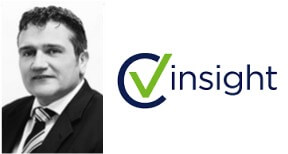 What are your first tasks each day?
When I arrive in the office, my first job is to run the daily status for our clients. I then allocate the new screening files to the account managers and review all current enquires. I constantly manage the workflow for all areas of the business, so getting it right first thing in the morning is very important.
What motivates you?
I'm fascinated by people. I find the differences in people's lives the most fascinating thing. I love to understand what leads someone to be where they are at that point in their life and how it makes everyone different from each other.
If I'm having a bad day, I think about my brother. He battled critical illness in his early 30's, but never moaned or complained for over 3 years. He always had a smile on his face no matter what life presented him. Like most people you can have a bad day now and again, but I just look at what he went through without a single complaint and think how lucky I am.
Tell us about your proudest achievements
I'm very proud of the legacy I left behind during my time in the police force. I was presented with a small local criminal case that I believed had a lot more to it than originally reported. Over the next four years I set up and ran an operation that lead to the arrest of over 400 people and recovered property worth several millions of pounds. The operation spread across the UK and Europe as it involved international organised criminal networks. This is still an ongoing operation and the unique methods of offending are now known to police forces across Europe.
I also build my own cars!
CV Insight isn't just about CV screening, we're about…
Relationships, detail and people.
What is the key to a successful CV screening partnership?
Understanding the client's needs. We don't have a one size fits all approach, every client is different and we are totally client focused.
I like working in this business because…
Every day presents a different challenge, from meeting new clients to dealing with difficult candidates. I enjoy being able to resolve issues that others, may at first, see as major problems. I manage a team of great staff and the environment is fast paced. We are constantly developing our processes to give our clients and candidates the best service.