What is your corporate reputation worth?
"It takes many good deeds to build a good reputation, and only one bad one to lose it."
Benjamin Franklin
Putting a price on your corporate reputation is tricky. After all, reputation isn't really something tangible. It's largely formed of a set of beliefs or opinions. Positive, or negative. Some might be based on hard facts and personal experience, others are simply formed of part-truths or hearsay. It's a difficult beast to tame. But untamed, it can wreak havoc. Aon's Global Risk Survey 2015 named damage to reputation as the number one ranked risk. It's no surprise when you consider that in the last few months alone we've seen the motor industry and the telecommunications industry rocked by negative PR on a huge scale. Both of these organisations, and others who have been in a similar situation, will have found that the intangible asset that is 'reputation' has very tangible (not to mention financial) outcomes. Everything from the shareholders and investors to the consumers and employees are affected when a reputation is damaged.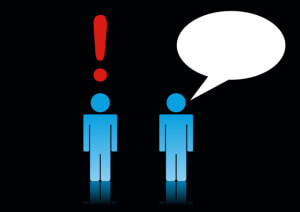 Q. Who should be in charge of your company's reputation?
A. Everyone!
First up, it's important to consider why investing in your corporate reputation is important. This shouldn't be a crisis management exercise, or one that is fuelled by fear. After all, while a negative reputation can cause damage, remember what strength can be achieved with a positive reputation.
Historically, the responsibility lay fairly clearly with the PR and Marketing folk. They were sharing the good news, and monitoring the industry chatter. It was extremely easy to control what was being said about you, and who would hear it.
Today, almost every second of every day is filled with the sound of consumers, customers, employees – anyone with a voice – communicating constantly. Opinions are formed, aired and shared in a multitude of channels, all at the speed of light. So make sure that every member of your organisation views your company's reputation as their responsibility. Of course, it's important to have key champion or two within your company who are ultimately responsible for the strategy, but everyone has the power to influence.
Your internal reputation is just as important
"We built the Starbucks brand first with our people, not with our consumers. Because we believed the best way to meet and exceed the expectations of our customers was to hire and train great people, we invested in our employees."
Howard Schultz, Starbucks Chairman and CEO
Your employees are one of your biggest assets – you don't need us to tell you that. But have you thought about how important it is for them to be part of a positive culture? For this reason, you must ensure that those that you hire fit with your culture, as they will be key influencers of your internal reputation. It's essential that during the recruitment process, you safeguard your company's reputation by only hiring candidates that have been subjected to a thorough screening process. Find out more about our screening services and why they are important.
Keep one step ahead
Looking beyond the four walls of your business, it's important to monitor the communication channels used by your customers, industry peers and competitors. Naturally this job is likely to fall to your PR and Marketing executives. But how about sharing the load and ensuring that all of your employees do this too?
Throw out the rulebook and make a negative situation positive
Don't be caught on the back foot when something negative arises. A bit of proactivity can quickly and easily defuse a situation before it builds into a storm. How you handle negative situations, particularly ones where the world is watching, can really count in your favour. Do a great job and you will be remembered for that, not for the issue that caused it.
In 2012 when a major mobile phone operator suffered a huge service outage that lasted for two days, many disgruntled customers took to Twitter. Rather than issue standard corporate responses to their customers, they took the time to respond to each disgruntled customer with a human, and often good humoured response. Some argued that the tone was wrong for a service failure, but others believed the risky approach paid off. Twitter followers of the phone company increased from an average of 155 to 13,500 per day. They became a hot topic in the Twittersphere, with a 4,836 percent uplift in people talking, @replying and re-tweeting.
Everyone has an online reputation
Don't forget about the personal reputation of your staff. It takes less than a minute to research the digital reputation of a person. While the debate continues about how long an individual should have old news appear within their personal online search results, the fact is that while it is out there, it is findable. It is impossible and unreasonable to monitor and control your employee's behaviour online but it is always worthwhile reminding them of the consequences.
If you want to ensure that your HR team spends time and resource on finding candidates that are both a good fit for your company, and won't put your corporate reputation at risk – let us help you. We are experts in employment history checks and candidate screening. Your company's reputation needs protecting, and we'd love to talk you through the many ways that we can help.